Maryland Commission on Indian Affairs
The Maryland Commission on Indian Affairs:
Serves the interests of communities of Native American groups in Maryland by: 
Aiding in the process to obtain state and/or Federal recognition.
Promotes awareness and a better understanding of both historical and contemporary Native American contributions to life in Maryland by:
Assisting in the protection of Native American burial and other culturally significant sites.
Organizing and maintaining a database of resources specific to Nati
ve American history and culture in Maryland.
Publishing information and giving presentations on the culture and accomplishments of Native American groups in Maryland.
Serving as a statewide clearinghouse for information.
Assists state, local, and private agencies responsible for addressing the educational, social, and economic needs of Native American communities in Maryland with activities, such as:
Identifying unmet social and economic needs and recommending specific actions to meet those needs.
Identifying and supporting physical and mental health programs for Native Americans.
Making recommendations to encourage and promote economic development in Native American Communities.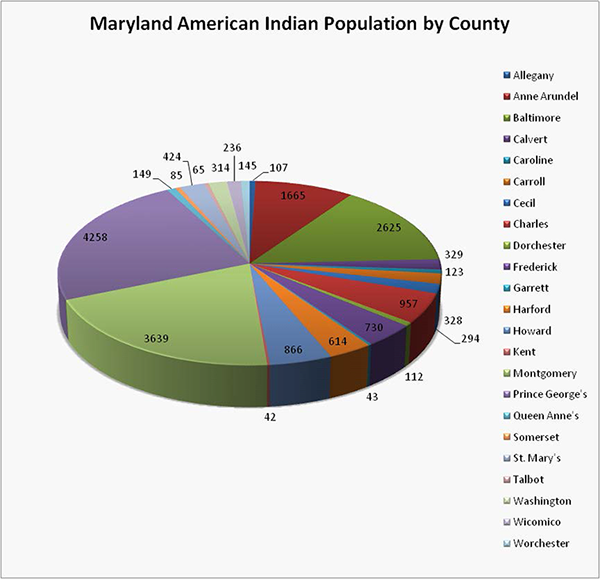 Commission Members
The commission consists of nine members appointed for three-year terms by the governor of Maryland with the advice and consent of the State Senate. A majority of these nine members must be American Indian residents of Maryland, and at least three members must be from American Indian groups that are indigenous to Maryland. Each member of the commission has a demonstrated knowledge of Indian culture and history, and is sensitive to the needs and concerns of Indian communities.
At the end of their three-year term, a commission member can continue to serve until a successor is appointed. A member can succeed himself, but cannot serve more than six years consecutively.
Ethnicity/tribal affiliation and county of residence in parentheses
Chair:
Lisa Savoy Chairman (Piscataway, Charles County)
Vice Chair:
Robert Gajdys (Mohawk, Calvert County)
Members:
Donna Wolf Mother Abbott (Nause-Waiwash, Dorchester County)
Sherry L. Ayers
Claude A. Bowen
Robert Killen (Pocomoke, Howard County)
Rico Newman (Piscataway, Prince George's County)
Rebecca Stone (Chickasaw, Howard County)
Leanora Winters (Piscataway Indian Nation, Calvert County)
2018 Public Commission Meetings
February 5, 2018
7:00 pm – 9:00 pm
100 Community Place
Crownsville, MD  21032
April 2, 2018
7:00 pm – 9:00 pm
100 Community Place
Crownsville, MD  21032
June 4, 2018
7:00 pm – 9:00 pm
100 Community Place
Crownsville, MD  21032
August 6, 2018
7:00 pm – 9:00 pm
100 Community Place
Crownsville, MD  21032
October 10, 2018
7:00 pm – 9:00 pm
100 Community Place
Crownsville, MD  21032
December 3, 2018
7:00 pm – 9:00 pm
100 Community Place
Crownsville, MD  21032
Administrative Director
Keith Colston, Tuscarora (Enrolled member of Lumbee Tribe, North Carolina)