Maryland Commission on Indian Affairs
Message from MCIA in Honoring Veterans Day!!! Message
The Maryland Commission on Indian Affairs:  Serves the interests Native American communities in Maryland by: 
Aiding in the process of obtaining State and/or Federal recognition.
Promotes awareness and better understanding of the historic and contemporary contributions of Native Americans to Maryland by:
Assisting in the protection of Native American burial sites and other culturally significant sites.
Organizing and maintaining a database of resources specific to Native American history and culture in Maryland.
Publishing information and giving presentations on the culture and accomplishments of Native American groups in Maryland.
Serving as a statewide clearinghouse of information for and about the Native American communities of Maryland.
Assists state, local, and private agencies provide resources to address the educational, social, and economic needs of Native American communities in Maryland by:
Identifying and providing recommendations on unmet social and economic needs.
Bringing awareness of and support for physical and mental health programs for Native Americans.
Encouraging and promoting economic development in Native American communities.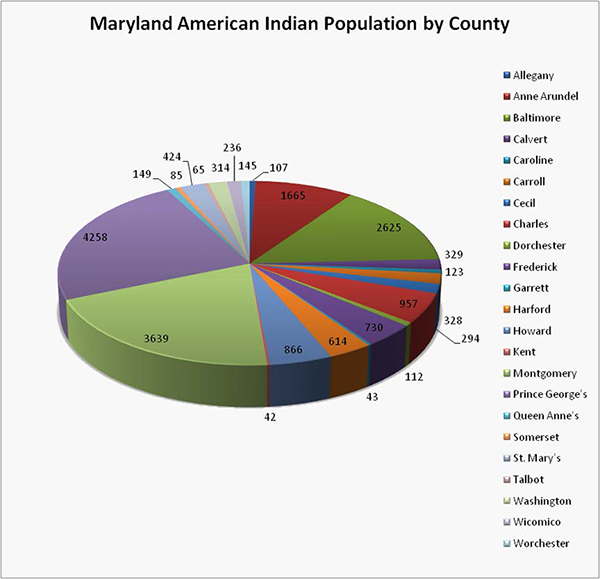 Commission Members
The Maryland Commission on Indian Affairs is composed of nine members appointed by the governor of Maryland and confirmed by the Maryland State Senate. A majority of these nine members must be American Indian residents of Maryland, and at least three members must be from American Indian groups indigenous to Maryland. Each member of the commission is appointed based on a demonstrated knowledge of American Indian culture and history, and understanding of the needs and concerns of American Indian communities. Commissioners are appointed a term of three-years, and can serve up to six years consecutively. In the event a successor has not been appointed at the conclusion of a commissioner's term, the commissioner may continue to serve on the commission until one is appointed.
Tribal Affiliation:
Chair:
Sherry L. Ayers (Lumbee)
Vice Chair:
Tiara Thomas (Piscataway Conoy Tribe)
Members:
Donna Wolf Mother Abbott (Nause-Waiwash)
Claude A. Bowen (Archaeologist)
Peter Brooks (Piscataway Choptico Band)
Kerry Lessard
Stanley Thompson (Lumbee)
Guy Wells (Cherokee)
2023 Public Meetings
Maryland Commission on Indian Affairs (Held on Mondays via Zoom from 7 p.m. to 9 p.m.)
February 4, 2023 SPS Meeting  Agenda   Minutes   Video
February 6, 2023  Agenda   Minutes   Video
April 3, 2023  Agenda   Minutes   Video
April 26, 2023 Special Call Meeting   Agenda
June 5, 2023  Agenda   Minutes   Video
August 7, 2023  Agenda   Minutes   Video
October 2, 2023  Agenda   Minutes   Video
December 4, 2023  Agenda   Minutes   Video
2023 Events and Programs
November 24, 2023 – American Indian Heritage Day
November 1, 2023 – Annual American Indian Heritage Month Kickoff
October 13th – November 11th – 2023 Maryland STEM Festival   Presentation
Sept. 16 & 17, 2023 – Nause Waiwash Band of Indians, Inc. 2023 – 31st Annual Native American Festival
June 18, 2023 (deadline) – MSA Indigenous Education in Maryland's Lower Eastern Shore Application  FLYER
June 2023 – MSAC Resource Bulletin  LINK
April 17, 2023 MSAC – Maryland's Poet Laureate – Nominate a Poet or Apply to the Selection Committee deadline May 12, 2023   LINK
April 3, 2023 – Federal Funds Information for States (FFIS) Competitive Grants   LINK
April 2023 – MARYLANDVOAD, Inc. Newsletter   LINK
March 31, 2023 – PG County Summer Youth Enrichment Program accepting applications  FLYER
March 20, 2023 – MDDNR-State Forest Work Plans & Keep Maryland Beautiful Grants for 2023  LINK  LINK
March 26, 2023 at 1:00 p.m. – 6th Annual Tricky Tray – Nause-Waiwash Band of Indians, Inc.   FLYER
March 3, 2023 – Maryland State Archives – Webmaster Trainee Job Announcement   FLYER
March 2023 – Maryland State Archives – Oral Historian Researcher-apply by 04/05/2023 11:59 P.M. – LINK
March 9, 2023 Portraits of East Baltimore's "Reservation" Exhibition Launch  LINK
Patapsco Valley State Park: February Events and Updates  LINK
MSA – 2023 Internship Positions – Indigenous Archive Project for the Eastern Shore of Maryland – LINK
MSAC Art Opportunities – January 2023 FLYER
MSAC – Apply to Maryland's Public Artist Roster by May 31  FLYER
MDOT – Apply for HR Assistant (Administrative Officer II) by June 7, 2023   LINK
2022 Public Meetings
Maryland Commission on Indian Affairs ( Held on Mondays via Zoom from 7 p.m. – 9 p.m.)
January 29, 2022 Saturday-In Person SPS Meeting-POSTPONED Agenda
February 7, 2022  Agenda    Minutes    Video
February 26, 2022 Saturday-In Person SPS I Meeting  Agenda    Minutes
March 4, 2022 Special Call Meeting  Agenda    
March 8, 2022 Special Call Meeting  Agenda    
March 21, 2022 Monday-In Person SPS II Meeting  Agenda    Minutes
March 31, 2022 Special Call Meeting  Agenda
April 4, 2022  Agenda    Minutes    Video
June 14, 2022  Agenda    Minutes    Video
August 1, 2022  Agenda    Minutes    Video
October 3, 2022  Agenda    Minutes    Video
December 5 12, 2022  Agenda    Minutes    Video
2022 Public Meetings Presentations
04-04-2022 CfMAR – Indigenous Archaeology
04-04-2022 MDH – Behavioral Health Crisis System
04-04-2022 MSAC – Land Acknowledgement Project
06-14-2022 University of MD Update
06-14-2022 Baltimore County Archaeology Lab – Towson University
2022 Events and Programs
Native American Lifelines's – Annual Dental Day & Back to School Event 08/06/22  FLYER-Registration
MSAC FY23 – Public Art Grant Panelist Application – Closing Date 08/15/22  LINK
MSDE – Federal Funds Available to Serve Free Summer Meals to Children and Teens  Press Release
September 17 & 18, 2022 – 30th Annual Native American Festival – Ball Field at Vienna, MD 21869
November 1, 2022 – Annual American Indian Heritage Month Kickoff –  (St. Mary's College of Maryland)
November 25, 2022 – American Indian Heritage Day –  (Virtual, until further notice)
2022 Maryland State Archives Summer Internships Announcement – Closing Date 03/31/22MEMO
2022 MAA Summer Internship Program – Apply by Closing Date 02/28/22MEMO
February/March – One Who Flew Over The Cuckoo's Nest Play  FLYER
Competitive Commercial Tax Credit Applications due by 08/31/22 LINK
DNR News: Waterway Improvement Fund Grants: Waterbird Nesting Island  LINK
July 2022 – January 2023 Werowocomoco Ancestral Lands Internships LINK
November 1st, 2022 – Annual American Indian Heritage Month Kickoff –  St. Mary's College of Maryland
November 25th, 2022 – American Indian Heritage Day
MSAC – Maryland State Arts Council – Art Opportunities – November 2022 LINK
11/12/22 Veterans' Clinic & Picnic at Cambridge Elks Lodge #1272 – from 12-5 p.m. Flyer-New Release
2021 Public Meetings
February 1, 2021 Agenda
April 5, 2021 Agenda
June 7, 2021 Agenda
August 16, 2021 Agenda
October 4, 2021 Agenda
October 7, 2021 Agenda
December 6, 2021 Agenda
2021 Events and Programs
29th Annual Native American Festival
Native American Heritage Month, Scholarship Opportunities, Get Help Completing the FAFSA and MSFAA, and More!
Piscataway Conoy Community Resource Day March 27, 2021
November 1st, 2021 – Annual American Indian Heritage Month Kickoff –  (Virtual, until further notice)
November 26th, 2021 – American Indian Heritage Day –  (Virtual, until further notice)
2020 American Indian Heritage Month Celebration
The Maryland Commission on Indian Affairs and the Governor's Office of Community Initiatives celebrated the Kick Off to the 2020 American Indian Heritage Month in Maryland by hosting a virtual celebration event, recognizing the hard work of various Marylanders in and for the American Indian community. Governor Larry Hogan proclaimed November as American Indian Heritage Month.
View Agenda for 2020 Maryland Commission on Indian Affairs Celebrates American Indian Heritage Month Kickoff Event
View Governor Governor Hogan Proclaims November as American Indian Heritage Month Here
View Photos Here
View Press Release Here
2019 American Indian Heritage Month Celebration

Maryland Commission on Indian Affairs Annual Reports
2015 Annual Report Maryland Commission on Indian Affairs
2016 Annual Report Maryland Commission on Indian Affairs
2017 Annual Report Maryland Commission on Indian Affairs
2018 Annual Report Maryland Commission on Indian Affairs
2020 Annual Report Maryland Commission on Indian Affairs
Administrative Director
Keith Colston, Tuscarora (Enrolled member of Lumbee Tribe, North Carolina)