Happy American Indian Heritage Month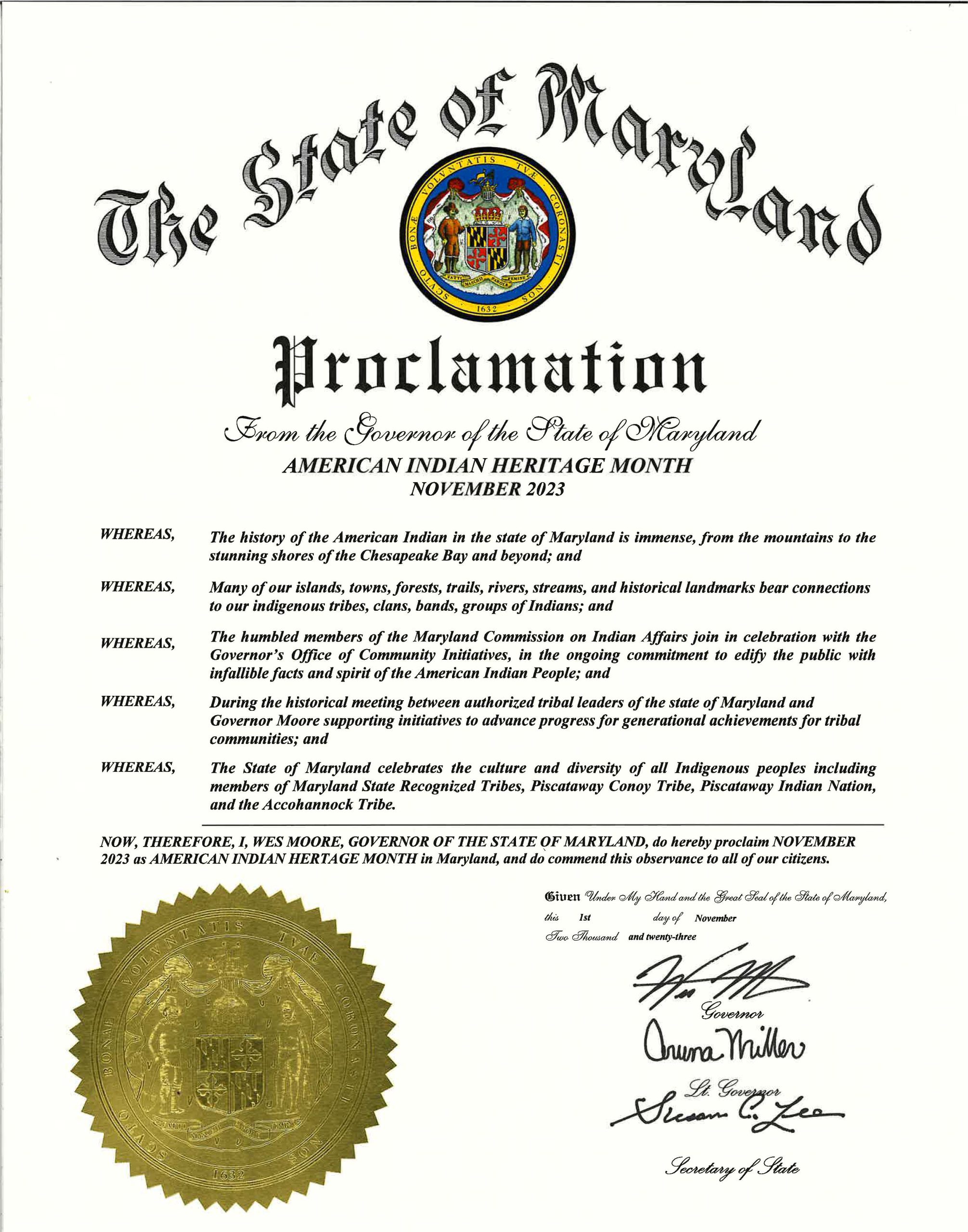 December 2023 – Maryland Agritourism Conference   FLYER   LINK
November 2023 – Department of Veterans Administration – Operation Green Light   FLYER   LINK
November 10, 2023 – American Red Cross Virtual Information Session   Registration Flyer
October 20, 2023 – American Red Cross Virtual Information Session   Registration Flyer
October 7, 2023 – Maryland Skilled Immigrant Task Force-Interethnic Community Outreach Community Resource and Career Fair  FLYERS
September 28, 2023 – Governor Moore and Lt. Governor. Miller Host Historic State House Tribal Consultation Meeting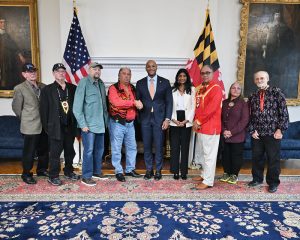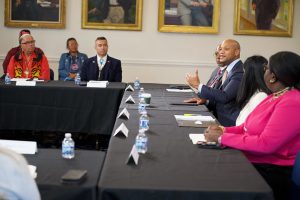 ANNAPOLIS, MD — On Thursday, Governor Wes Moore and Lieutenant Governor Aruna Miller hosted a
meeting with six Maryland tribes to discuss concerns within the tribal communities at the State House. The historic meeting marks the first time an administration has met simultaneously with the leaders of all of Maryland's organized tribes. "The state of Maryland is grateful to our tribal communities and their vital contributions to our society," said Gov. Moore. "We must continue to do work in partnership with Maryland's tribes to ensure the well being of indigenous Marylanders. From land and cultural preservation to expanded educational opportunity, our administration is committed to doing the necessary work to create a more inclusive state that leaves no one behind."  Full Article

September 2023 – The Governor's Office of Service and Civic Innovation is looking for a
few good people to serve as Service Success Coaches.  These individuals will serve as
front line support for members in the Maryland Corps & Service Year Option programs.
As such, they will be indispensable to ensuring that members are navigating challenges
and diligently focused on their professional development so that there's a clear "next
step" at the conclusion of their term in Summer 2024.
August 2023 – GOCI at MACo Convention 
May 18, 2023 – Asian Pacific American Heritage Month Celebration
Best candidates will have strong emotional intelligence and a sincere commitment to
working with individuals trying to find their way.
Please consider applying and kindly share this opportunity. 
The Governor's Office of Community Initiatives connects Marylanders to economic, volunteer, and human service opportunities through government, business, and nonprofit partners and conducts community affairs and engagement within the executive branch of Maryland government.
The office also houses the Maryland Commission on LGBTQ Affairs and Governor's Office of Immigrant Affairs, in addition to the Governor's Ethnic Commissions, and Faith-based Outreach.
News 2022