Maryland Commission on LGBTQIA+ Affairs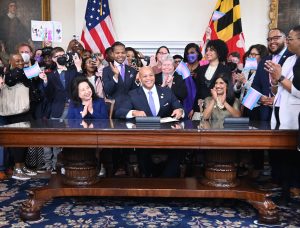 Photo courtesy of the Executive Office of the Governor:  Proclamation ceremony for Transgender Day of Visibility, March 31, 2023.
Under the Governor's Offices of Community Initiatives the Commission on LGBTQIA+ Affairs was created by the 2021 Maryland General Assembly by HB130. The commission reflects the gender, racial, ethnic and geographic diversity of Maryland. Members are required to know the issues facing our LGBTQIA+ communities, assess challenges, and provide recommendations and best practices for LGBTQIA+ inclusion.  The Maryland General Assembly passed HB141 during the 2023 legislative session, which renamed the commission to the Commission on LGBTQIA+ Affairs and increases the number of members from 15 to 21. 
By-laws
By-laws – Maryland Commission on LGBTQIA+ Affairs – Amended 9.11.2023
Annual Reports
2022 Annual Report: Maryland Commission on LGBTQ Affairs   

Publications
2024 Policy Priorities – Adopted 11.13.2023
Recommendations for Supporting LGBTQIA+ Students – Adopted 9.11.2023