Annual Interfaith Domestic Violence Coalition & Conference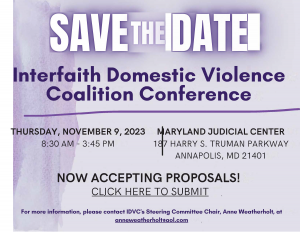 2023 Interfaith Domestic Violence Conference 


This Interfaith Domestic Violence Conference is a collaborative partnership among the judicial system, law enforcement, clinical and social service providers, faith leaders, and community stakeholders. The conference has been developed to enable advocates, responders, and faith-based leaders at all levels to appropriately intervene and provide needed support to any and all persons experiencing intimate partner violence (IPV) in Maryland.
Goals for the conference include:
Providing information and access to critical services and information to ensure appropriate referral and response for victims and survivors of faith-based communities.
Providing strategies to ensure the safety of IPV impacted persons, the community at large and faith-based communities.
Providing opportunities for networking between local agencies and faith-based organizations to enhance awareness of jurisdictional supports and services.
Providing access to subject matter and lived experience expertise to facilitate comprehensive presentations and discussions on IPV and the intersection with faith-based communities.
Theme
The theme of the 2023 Conference is Post-Pandemic Innovations. After living through the challenges of the COVID-19 pandemic many community members, service providers, first responders and faith leaders have adapted their practices.  With this conference, we hope to share those innovations to improve Maryland's response to all people who experience intimate partner violence. Within our broad goal and theme, the possible topics are unlimited.
Topics may include:
Holistic healing and recovery for survivors of intimate partner violence
Faith communities as safe spaces and support networks for survivors
Innovative programs and initiatives to prevent intimate partner violence
Addressing the impact of the pandemic on intimate partner violence
Intersectionality and addressing unique challenges faced by marginalized groups
Collaborative Partnerships: Engaging men, boys, and community stakeholders in intimate partner violence prevention
Recognizing and addressing female perpetrators of intimate partner violence 
Collaborations between faith-based organizations and community stakeholders 
Digital platforms and technology in supporting survivors and raising awareness
Criteria
Proposals will be reviewed, and workshops will be selected by the Interfaith Domestic Violence Conference Steering Committee. Proposals will be considered based on the following criteria:
The session features emerging innovations and topics relevant to address, prevent and/or research intimate partner violence.
The session builds participants' knowledge and/or skills or facilitates critical conversations to address and/or prevent intimate partner violence.
The content of the session incorporates an inclusive framework that incorporates the experiences of people from all faith communities.
The session is interactive and participatory and incorporates methods that support adult learners (small group work, team or problem-based activities, etc.).
The session proposal articulates clear, specific, and measurable learning objectives that are relevant to conference participants.
The session is 60 minutes in length.
Special consideration for sessions that focus on programs or topics related to underserved communities and/or working in culturally-specific communities.
Compensation
As this is a volunteer-based conference, there will be no honorarium, speaker fee or travel expenses for presenters.
Important Dates
Deadline for Submission – August 15, 2023 – 5:00 p.m. EST
Notification of Acceptable –  September 15, 2023
Presentation Slides Due  – October 15, 2023
Conference – November 9, 2023
Questions? Contact Alicia Bickoff at abickoff@associated.org or Lucane LaFortune at llfortune@mnadv.org.