Interfaith Domestic Violence Coalition & Conference
In situations involving domestic violence, victims often turn to faith to seek comfort. Frequently, domestic violence victims confide in faith leaders, and the initial reaction of the faith leader influences the decisions of the victim.
Appreciating the unique and important role clergy members serve in addressing the needs of and providing guidance to victims, the Interfaith Domestic Violence Coalition (IDVC) in partnership with the Governor's Office of Community Initiatives engages communities throughout Maryland to bring together interfaith leaders and domestic violence experts to take a stand against domestic violence.
The coalition provides information on resources and strategies on how to best engage and approach potentially life-changing conversations with victims and effectively understand and guide victims to a support system. Together with the faith community at large, the coalition seeks to spark life-changing conversations that can transform families and strengthen our communities.
The coalition is led by Co-Chairs Judge Karen Friedman and Judge Catherine Chen.  
Understanding that domestic violence is an issue that impacts all Marylanders, the Interfaith Domestic Violence Coalition hosts a full-day conference, annually during Domestic Violence Awareness Month, to unite clergy and faith-based leaders against domestic violence. The Coalition joins interfaith leaders with legal experts, and governmental partners in order to educate them regarding the unique dynamics of domestic violence and the impact it has on Marylanders and the resources available for victims in the community.
2019 Conference Registration 
The conference is open to all those who live or work in Maryland.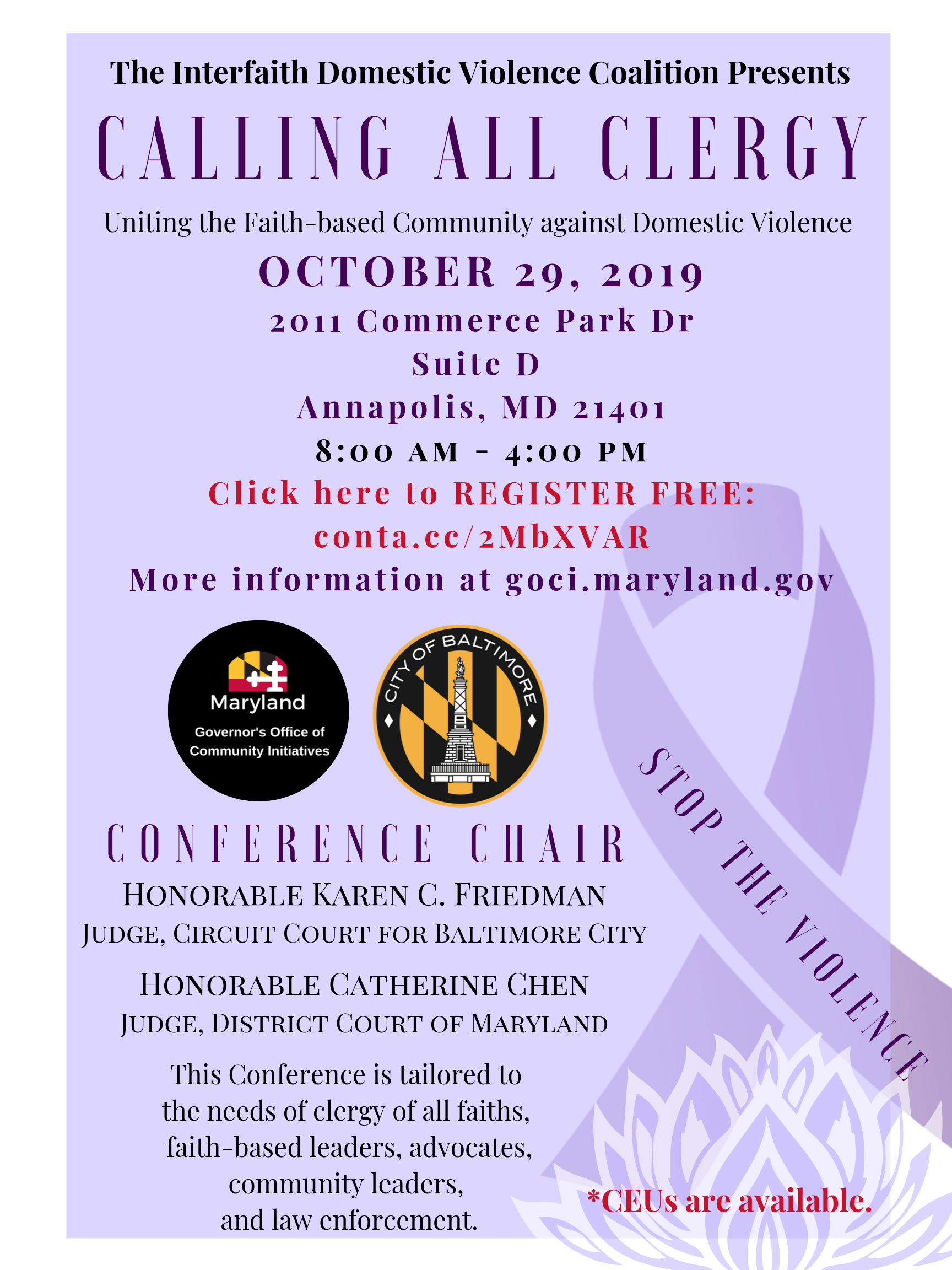 Conference attendees will hear from experts on, but not limited to:
The Unique Dynamics of Domestic Violence;
The Effect of Domestic Violence on Children;
Safety Planning;
Security Issues in Sanctuaries;
Legal Ramifications of Protective and Peace Orders;
Resources Available in Individual Jurisdictions; and
Other topics of interest related to Domestic Violence
Other Key Partners Include:
Archdiocese of Baltimore
Baltimore City Criminal Justice Coordinating Council
Baltimore City Mayor's Office of Criminal Justice
CHANA (Counseling, Helpline, AID & Networking for Abused Women)
Episcopal Diocese of Maryland
Governor's Office of Crime, Control & Prevention
MNDAV (Maryland Network Against Domestic Violence)
Muslim Community Cultural Center of Baltimore
Prince George's Family Justice Center
Women's Law Center of Maryland