Volunteer Maryland Convenes Past and Present Members, Programs to Celebrate 25 Years of Service to Maryland Communities
ANNAPOLIS, MD– Volunteer Maryland yesterday hosted a celebration of 25 years of service to Maryland communities. Since its inception, Volunteer Maryland has developed over 350 partnerships with nonprofit organizations, government agencies, and schools across Maryland, placing Volunteer Coordinators to help bridge the gap between communities facing critical problems and citizens who want to volunteer to solve those problems. The partnerships have resulted in over 131,000 volunteers mobilized to serve nearly two million volunteer hours in communities around the state.
"Maryland has a proud history of promoting service and civic engagement, and organizations like Volunteer Maryland provide opportunities for citizens to take an active role in addressing issues important in their communities," said Governor Larry Hogan. "We commend the continuing efforts of Volunteer Maryland and encourage all Marylanders to join our efforts to improve our state through service."
In the current service year, which runs from August 2017 to July 31, 2018, there are 27 Volunteer Coordinators serving in organizations throughout the state, including two members serving in Volunteer Maryland's Office as Peer Leaders. To date this year, the Volunteer Coordinators have mobilized nearly 8,000 volunteers to serve more than 70,000 volunteer hours.
"Today, we celebrate and thank Volunteer Maryland for their unwavering support of Maryland communities over the past 25 years," said Steve McAdams, Executive Director of the Governor's Office of Community Initiatives. "As we travel throughout the state on behalf of Governor Hogan, we have seen first-hand the incredible impact Volunteer Maryland members have had in the community, – allowing nonprofit organizations, government agencies, and schools to increase capacity and recruit volunteers."
Volunteer Maryland has received 40 applications from service organizations for the 2018-2019 service year, 19 of which are returning organizations. AmeriCorps member recruitment for Volunteer Maryland runs through late August. For more information on serving as a Volunteer Maryland AmeriCorps member, visit: http://volunteer.maryland.gov/acm/.
Established in 1992, Volunteer Maryland places Volunteer Coordinators in partner organizations to increase volunteer program efficiencies, recruit volunteers, and develop volunteer programs. In 1993, Volunteer Maryland began utilizing funding from the Corporation for National Community Service to recruit AmeriCorps members to serve as Volunteer Coordinators. In addition to yesterday's celebration, Volunteer Maryland has engaged in a social media campaign until August, which will highlight the impact of Volunteer Maryland members throughout the years. The campaign will be featured on Facebook (@VolunteerMaryland), Twitter (@VolunteerMD), and Instagram (volunteer_maryland).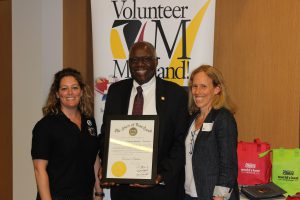 Governor's Office of Community Initiatives' Chief of Staff, Winston Wilkinson, presents Governor's Citation to Volunteer Maryland in celebration of 25 years of service to Maryland communities
[Pictured from left to right: Nicole Fiocco, Director, Volunteer Maryland; Winston Wilkinson, Chief of Staff, Governor's Office of Community Initiatives; Eleanor Falk Young, Founder and Former Executive Director, Volunteer Maryland ]
---