Volunteer Maryland "Class 31" Celebrates Graduation
24 AmeriCorps Members Mobilize and Manage More Than 6,100 Volunteers
to Serve 51,882 Hours in Maryland Communities
ANNAPOLIS, MD – Volunteer Maryland announced the graduation of Volunteer Maryland Class 31 last week. This service year, the graduating class consisted of 24 AmeriCorps members, also known as Volunteer Coordinators, who worked to mobilize and manage more than 6,100 volunteers to serve 51,882 service hours in communities throughout Maryland. Among 6,100 volunteers, more than half were newly mobilized by the Class 31 during this service year.
"Since 1993, a diverse group of people have been coming together to serve Maryland through the Corporation for National and Community Service and AmeriCorps with Volunteer Maryland. We are proud of the work that Volunteer Maryland Class 31 has accomplished in communities throughout Maryland," said Nicki Fiocco, Director of Volunteer Maryland. "By helping our service sites to grow and expand through volunteer management, our members are leaving a lasting legacy at their site. Sites will continue to bear fruit for years to come, improving our communities and addressing issues important to Marylanders."
Established in 1992, Volunteer Maryland places Volunteer Coordinators in partner organizations to increase the efficiency, development, and scope of volunteer programs. In 1993, Volunteer Maryland began utilizing funding from the Corporation for National Community Service to recruit AmeriCorps members to serve as Volunteer Coordinators.
Since its inception, Volunteer Maryland has built more than 350 partnerships with nonprofit organizations, government agencies, and schools across Maryland. Volunteer Maryland places and trains more than 700 Volunteer Coordinators to bridge the gap between communities facing critical problems and citizens who want to volunteer to solve those problems. The partnerships have resulted in over 135,000 volunteers mobilized to serve 2 million volunteer hours in communities around the state.
Volunteer Maryland is currently accepting applications for the 2019-2020 service year. For more information on serving as a Volunteer Maryland AmeriCorps member, visit: http://volunteer.maryland.gov/acm/.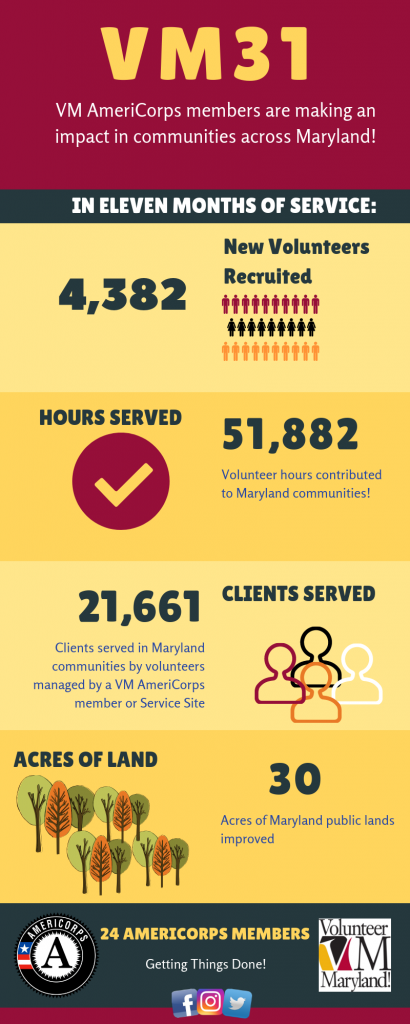 ---