Baltimore Ranked in Top 10 AmeriCities by Corporation for National and Community Service
Maryland Ranks 4th Most Charitable State Having More Than 1.7 Million Volunteers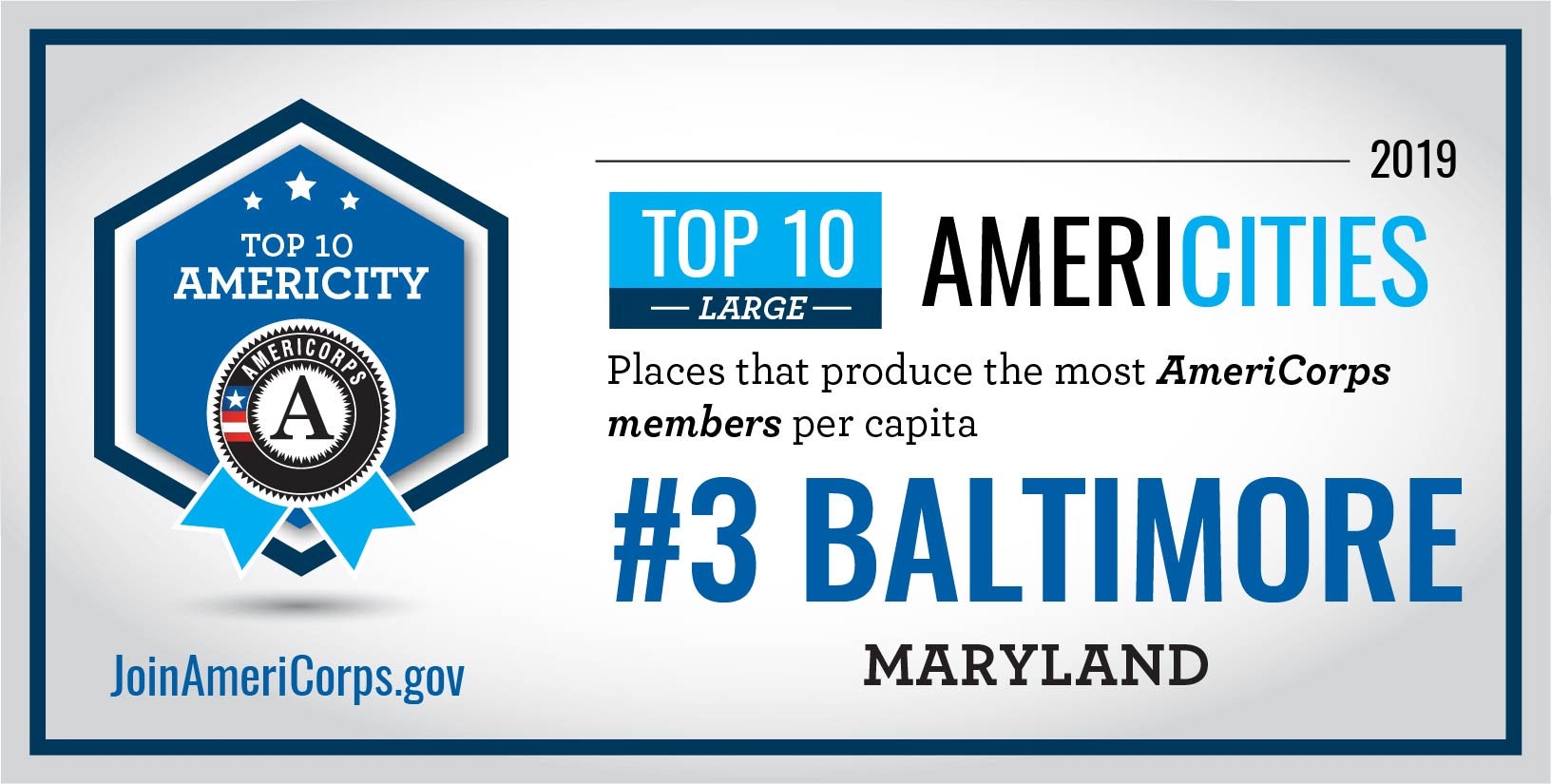 Annapolis, MD – The Governor's Office on Service and Volunteerism joined the Corporation for National and Community Service (CNCS) in announcing Baltimore as a Top 10 AmeriCity. The announcement was made following the release of an annual report by the Corporation for National and Community Service which ranks communities based on the number of AmeriCorps members per capita. Baltimore has consecutively been a Top 10 AmeriCity since 2015.
"I am proud of this extraordinary success Baltimore City has achieved since the beginning of our administration," said Governor Larry Hogan. "AmeriCorps members devote their enthusiasm, talent, and expertise to serving diverse communities and addressing the most pressing and significant issues that affect our city, and the 2019 announcement further illustrates the commitment of Marylanders to changing Baltimore for the better and making a difference in the world."
There are approximately 75,000 AmeriCorps members serving in nearly 21,000 AmeriCorps programs throughout the country. AmeriCorps members commit up to one year of service to support the mission of local organizations and engage in a variety of activities addressing one or more of five focus areas: disaster services, economic opportunity, education, environmental stewardship, and healthy futures. Upon completion of their service commitment, AmeriCorps members are eligible to apply for a Segal AmeriCorps Education Award which can be used to pay educational costs at eligible post-secondary educational institutions, as well as to repay qualified student loans.
"AmeriCorps members have long been an essential part of the volunteer community in Baltimore and Maryland, serving in various capacities throughout the state," said Steve McAdams, Executive Director of the Governor's Office of Community Initiatives and Interim Director of the Governor's Office on Service and Volunteerism. "AmeriCorps members, 'Get Things Done' – leaving an incredible and positive influence on the organizations and communities they serve."
Additionally, Maryland ranks 4th among the most charitable states in the country by Wallet Hub and 14th in the nation for volunteering by the Corporation for National and Community Service. In 2018, 1,724,702 Marylanders served 181.9 million volunteer hours, worth a $4.3 billion economic impact and 36.3% of Marylanders volunteered while 58.3% of Maryland citizens donated $25 or more to charity. 
For the upcoming 2019 – 2020 service year, the Governor's Office on Service and Volunteerism has awarded $4.5 million in Competitive and Formula AmeriCorpsgrants to fund 19 AmeriCorps programs hosting 800 – 1,000 AmeriCorps members throughout the state.
For a full list of grant awardees and information on the programs visit: http://gosv.maryland.gov/our-americorps-state-grantees/.
For more information on the announcement visit: https://www.nationalservice.gov/programs/americorps/ameristates-and-americities
---