Governor's Office on Service and Volunteerism Announces Impact of "Marylanders Serving Marylanders" During COVID-19
Marylanders Donating and Volunteering Increases Crucial Access to Food
Annapolis, MD – In celebration of National Volunteer Week, the Governor's Office on Service and Volunteerism today announced the initial impact of Marylanders Serving Marylanders, which is part of Governor Larry Hogan's Maryland Unites initiative. Marylanders donated $35,000, more than 100,000 items of food in addition to nearly 110,000 pounds of food, and over 4,550 meals and groceries. Marylanders also served as volunteers at Maryland Food Banks for Marylanders impacted by coronavirus. 

German Escobar, CEO of Casa Dora – in collaboration with Chi'Bal Restaurant and EverPayer – converted restaurants into Community Kitchens and served more than 500 baskets of food in one day. 
"Marylanders have found safe, innovative ways to meet critical needs by distributing food and supporting access to food," said Nicki Fiocco, Director of the Governor's Office on Service and Volunteerism. "Our office is proud to empower Marylanders to act wisely and generously."

The Governor's Office of Community Initiatives helped facilitate a 38,023-pound donation of chicken to
Anne Arundel County Food Bank
; 11,760 pounds of chicken were distributed in a single day.
Maryland food banks are serving Marylanders on a larger scale, with Anne Arundel County seeing "a 200% increase at some of its local pantries and 51% are clients that have never needed help before" with a decrease in volunteers. The Governor's Office of Community Initiatives (GOCI) shared this critical need and Marylanders reached out to donate and volunteer. To meet increased demand, Skills4Life and Director Fiocco supplied a $25,000 donation and two skilled volunteer coordinators to Maryland Food Bank – those who wish to volunteer to meet critical needs can find on Maryland Unites. The MD DC Society of Clinical Oncology also donated $10,000.

DJ Chris Kopec hosted a virtual dance party with his family, to support first responders and food banks with 60,000 pounds of chicken, 30,000 breakfast bagels, and 12,400 Hershey bars.
Individual Marylanders also impacted food security and created virtual communities to meet the needs of local first responders and food banks. Marylander DJ Chris Kopec partnered with the United Way of Central Maryland and local Maryland businesses to host a virtual dance party with his family and families around the world, resulting in the donation and delivery of 60,000 pounds of chicken to local food banks, 60,000 eggs, 60,000 slices of bacon, and 30,000 bagels to local hospitals, 12,400 Hershey bars to the national guard and emergency departments, and 500 pizzas for first responders.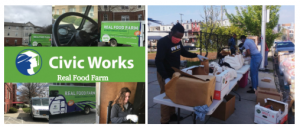 As part of their AmeriCorps service year, Maryland AmeriCorps members are volunteering at food banks, community-led organizations, and public schools to distribute over 10,000 pounds of food to feed 2,000 and over 250 meals to youth and adults in Baltimore City. Marylanders are encouraged to connect with their local Volunteer Connector to safely on-site volunteer. 

 9 members of New Shiloh Baptist Church served 97 families food. 
In addition to nonprofits, AmeriCorps programs and individuals, faith-based organizations are leading food distribution efforts. SHABACH! Emergency Resource Center served more than 800 bags of groceries in Prince George's and Montgomery County. Maryland Packaging has collaborated with the GOCI, local schools and food banks to donate more than 3,000 meals directly to Marylanders.
As Marylanders continue to serve Marylanders and the Hogan Administration supports volunteerism and donations in Maryland to meet critical needs in the community, we will continue to report the impact. The upcoming press release will cover Marylanders Serving Marylanders with personal protective equipment.
To view this information in video format, please visit:
"Marylanders Serving Marylanders" During COVID-19: Food Access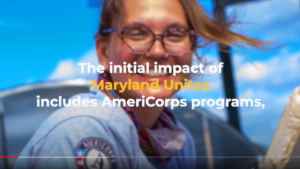 ---