Governor's Office on Service and Volunteerism Announces $1.5 Million in Competitive Grants to Support Statewide AmeriCorps Programs
6 Federal AmeriCorps Grants Aim to Support Maryland Community Service Organizations
Annapolis, MD – The Governor's Office on Service and Volunteerism today announced that six Maryland organizations received cumulative $1,499,953 million in competitive AmeriCorps funding from the Corporation for National and Community Service (CNCS) – the federal agency responsible for AmeriCorps and other national service programs. Grant funds will be used to provide living stipends, health care, and other programmatic tools for AmeriCorps members–including ongoing coronavirus response efforts. 
Every year, 75,000 AmeriCorps members serve through 21,000+ schools, nonprofits, and community and faith-based organizations across the country. These citizens have played a critical role in the recovery of communities affected by disasters and helped thousands of first-generation college students access higher education. They also tutor and mentor young people, connect veterans to jobs, care for seniors, reduce crime and revive cities, fight the opioid epidemic, and meet other critical needs. 
 "We are extremely inspired by the Maryland AmeriCorps programs that successfully demonstrated effective programs models on a national platform to bring almost $1.5 million in federal funding to directly serve our communities, totaling $4.5 million in funding for Maryland AmeriCorps service," said Governor Hogan, "AmeriCorps members lead through compassion and informed-service as the boots on the ground fostering the spirit of public service."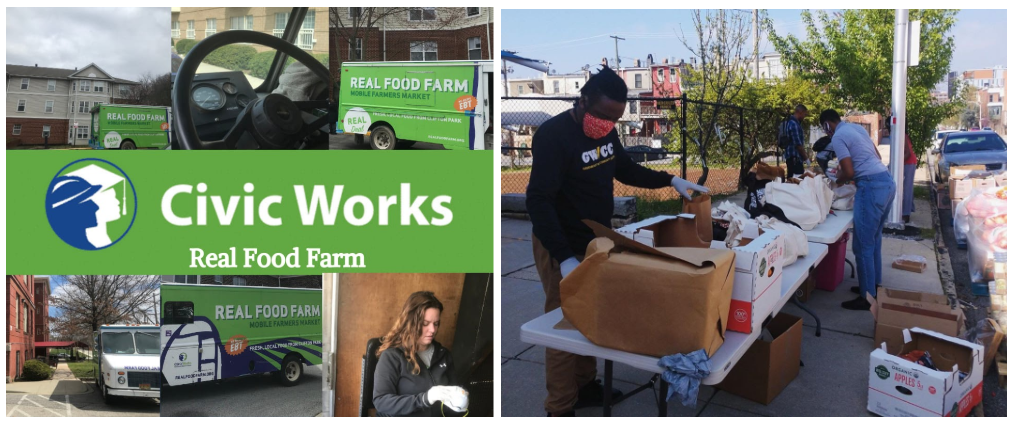 AmeriCorps members serving in the Civic Works' Real Food Farm and the Greenmount West Community Center (a partner of Community Art Collaborative) distributed over 10,000 pounds of food.
In response to COVID-19 in 2020, Civic Works Service Corps and the Community Art Collaborative AmeriCorps members have adapted their service to help meet the critical needs of the Baltimore City and Baltimore County community. This includes partnering with food banks, community-led organizations, local businesses and public schools to distribute over 20,000 pounds of food, 1,000 rolls of toilet paper, 2,500 bottles of sanitizer, and 2,500 bars of soap to 4,000 elderly in Baltimore City. Members have also engaged in innovative, responsive solutions such as donating artwork to field hospitals and utilizing online platforms to create distance learning materials. 
In addition to direct funding, CNCS will provide more than $828,519 in Segal AmeriCorps Education Awards for the AmeriCorps members funded by these grants. After completing a term of service, AmeriCorps members can receive an award of more than $6,000 that they can use to pay for college or repay qualified student loans and continue their careers in public service. 
AmeriCorps is funded by the Corporation for National and Community Service, the federal agency for volunteering and service, and recently marked its 25th anniversary. Since the program's inception in 1994, more than 1.1 million AmeriCorps members have served the nation, providing more than 1.6 billion hours of service and earning nearly $4 billion in education awards to pay for college or pay back student loans. Those interested in joining AmeriCorps can learn more at AmeriCorps.gov/Join
The Maryland competitively-funded grantees are as follows:
---