PHOTO RELEASE: Lt. Governor Rutherford Joins Ruth M. Kirk Recreation and Learning Center for Annual Community Garden Planting
PHOTO RELEASE: Lt. Governor Rutherford Joins Ruth M. Kirk Recreation and Learning Center for Annual Community Garden Planting
Governor's Office of Community Initiatives and Volunteers Return to Plant Flowers and Vegetables to Share with Community
ANNAPOLIS, MD – Lt. Governor Boyd K. Rutherford today joined Arthur "Squeaky" Kirk at The Ruth M. Kirk Recreation and Learning Center for the annual planting of the center's community garden. Together with the Governor's Office of Community Initiatives and neighbors and volunteers from the community, they gathered to fill the center's urban planters with new flowers and vegetable plantings.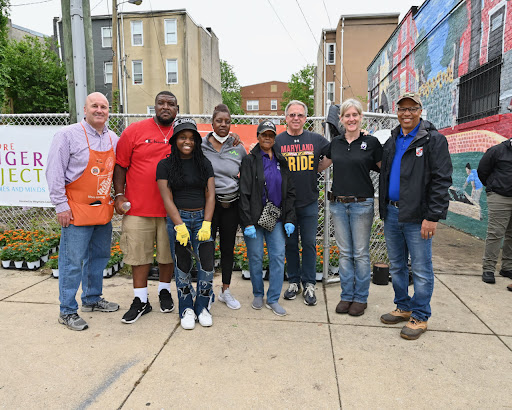 "Our longstanding partnership with The Ruth M. Kirk Recreation and Learning Center continues to bring us all together to contribute to the health and wellbeing of this community," said Lt. Governor Rutherford. "Our administration appreciates Arthur "Squeaky" Kirk and Carlose Debose for their commitment to Baltimore and all those who call it home."
Since 2011, The Ruth M. Kirk Recreation and Learning Center, formerly known as the Martin Luther King Center, has served as a community safe space for youth and families. The center offers after-school youth tutoring, GED adult programs, youth mentorship and more, in addition to providing more than 450 families with weekly groceries. The center is named in tribute to Ruth M. Kirk, a community advocate who served in the Maryland House of Delegates representing West and central Baltimore for 28 years, who passed away in 2011.
The center's garden is tended by community members and volunteers throughout the spring, summer and into the fall, producing a harvest that is distributed throughout the neighborhood. This year's planting event was made possible through donations from the Home Depot and Bell Nursery. 
"We're so proud to share in planting this garden year after year," said Governors' Office of Community Initiatives Executive Director Steven J. McAdams. "It's a reminder for all of us that working together encourages growth and helps make our communities thrive."
The Governor's Office of Community Initiatives connects Marylanders to economic, volunteer and human service opportunities through outreach to government, business, and nonprofit partners across Maryland's geographic areas, ethnic groups and faith communities. The office works to foster communication and collaboration in an effort to build a stronger Maryland.
More information about the Governor's Office of Community Initiatives is available at goci.maryland.gov.
-###-
---