About
The Advisory Stakeholder Group on Autism Related Needs was created by HB 718 in the 2021 Maryland General Assembly session. Located in the Governor's Office of Community Initiatives, the group is led by Katie Gandy, Maryland's first statewide autism coordinator.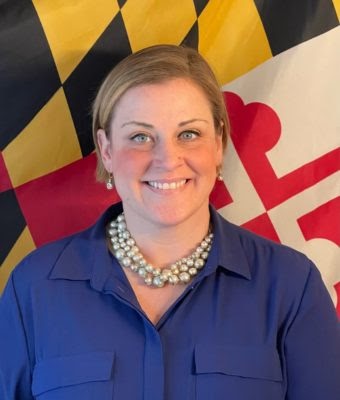 The goal is to enhance outreach and education about autism in Maryland. Gandy knows the challenges and opportunities as an advocate and parent of a child with autism. She will be a tremendous asset on this important issue for parents, children, and caregivers.
Gandy has served on the Board of Directors for the Howard County Autism Society for nearly three years. She recently led an effort by the society to add communication boards at Howard County elementary schools so that nonverbal children can better communicate with their peers on the playground.
Gandy seeks to build effective, wraparound resources for all Marylanders with autism, their families, and caregivers, to ensure that Maryland will remain a leader in autism education, therapy, interventions, and resources.
Katie Gandy
State Coordinator for Autism Strategy
Christian Miele
Assistant Secretary of Disabilities, Maryland
Department of Disabilities
Fatima Salem
Maryland Speech-Language-Hearing Association
Rachel London
Maryland Developmental Disabilities Council
Ray Marshall
The Arc of Maryland
Rebecca Rinzi
Pathfinders for Autismn
Ami Taubenfeld
Itineris
Elizabeth Hall
Maryland Department of Disabilities
Emily Arker
School Psychologist, Montgomery County Public Schools
Christine Ceely
Physical Therapist Case Mentor/Reviewer, Shenandoah University
Dr. Shannon Brown
Pediatrician/Owner, Premiere Pediatrics
Nicole LeBlanc
Autistic Self-Advocate
Adam Jones
Autistic Self-Advocate; Horse Trainer, Autism After 21
Roger Thibaudeau
Parent of a child on the Autism spectrum
Devan Southerland
Parent of a child on the Autism spectrum; group leader/moderator of Facebook group "Brown on the Spectrum"
Lisa Wiederlight
University of Baltimore
Peggy Pugh
Washington County Public Schools
Julie Lewis
T. Rowe Price
Jennifer Styles
Paterakis Bakeries
Melissa Rosenberg
Howard County Autism Society Executive Director
JaLynn Prince
Madison House, Autism After 21
Ryan Roddey
Special educator, autistic self-advocate
Walter Suskind
Autism sibling, filmmaker, non-profit founder
Kristy Nunley
Autism parent, author, advocatee
Annie McLaughlin
Annie McLaughlin Consulting
Emily Pratt
Behavioral expert, special educator